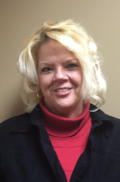 Agent
Phone: 248-458-2050
Cell: 810-479-6536
E-Mail: gayle@sohirealty.com

I am a Real Estate Agent licensed by the state of Michigan. After working in the medical field for many years while raising my family I decided to combine my love of interacting with people on a daily basis and my interest in the exciting world of Real Estate into one.

I take great pleasure in helping people achieve their dreams for themselves and their families. Whether your a first time buyer, looking to upgrade or downsizing I would love to help you achieve your goal. I can help you buy, sell or both and will do whatever I can to complete the job and satisfy all parties involved. I am also available for any questions, advice or guidance in regards to Real Estate. My goal is to help people in any way I can.

I strive to continue to educate myself in all areas of Real Estate to give my clients the best service possible. As they say there is no such thing as to much knowledge!

One of my favorite aspects of my job is the pleasure of meeting and forming relationships, not only professional but personal as well, with people I may otherwise would never have had a chance to meet. I don't see you as just a client but also as a friend.